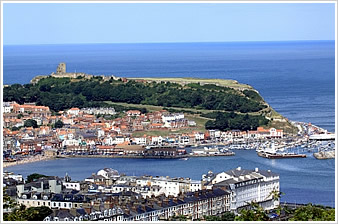 Live Life … In Scarborough
Once a 17th century spa town and Britain's first seaside resort, today Scarborough in North Yorkshire is a thriving coastal town.
In recent years, a locally-driven renaissance has transformed Scarborough's fortunes, giving it a reputation as a beautiful place to live and work, and winning it several national accolades in the process.
Living in Scarborough
Scarborough offers all the conveniences and facilities that you would expect to find in a bustling seaside town, including shops, childcare facilities, schools, places of worship, public libraries, healthcare facilities and sports and leisure centres.
The town also boasts a rich architectural heritage with a castle, a medieval quarter, a harbour and some outstanding examples of Victorian architecture, as well as links to some well known historical figures, including Henry II, Oliver Cromwell and the Brontes.
Property to rent in Scarborough
Finding a flat or house to rent in Scarborough couldn't be easier as the local market offers a good choice of affordable rental properties.
Properties tend to be let on either permanent or short term tenancy agreements so there are options available to suit every budget and lifestyle. When hunting for a property to rent in Scarborough, you can expect to come across everything from chic apartments and seaside flats to Edwardian terraces and brand new developments.
Culture in Scarborough
Scarborough has many cultural assets: museums, galleries, historic houses and sites, parks and theatres. The renowned playwright, Alan Ayckbourn, is based in Scarborough and almost all his plays have their first performance in the town's Stephen Joseph Theatre.
The Scarborough Jazz Festival takes place every September, attracting artists and jazz enthusiasts from all over the world.
As well as entertainment, Scarborough's natural landscape of the moors and sea are the perfect setting for outdoor pursuits, providing plenty of opportunities for surfing, rock climbing, caving, mountain biking, boating and abseiling.
Eating out in Scarborough
Scarborough is home to a wide range of places to eat out from takeaways and cafés to restaurants serving everything from fresh seafood to mouth-watering continental cuisine.
Transport links
As you might expect from a popular seaside town, Scarborough is well connected by rail, with most journeys arriving via York.
The town sits within easy reach of airports in Manchester, Leeds Bradford and Durham Tees, and the ferry port at Hull is only around 50 miles to the south.