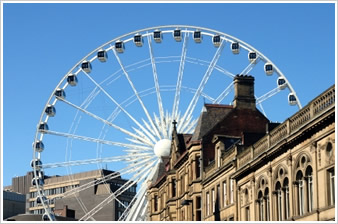 Live Life … In Sheffield
With four times as many trees as people, Sheffield is one of the greenest cities in the UK and a great place to live.
Recent regeneration projects have transformed Sheffield into a modern European city that incorporates the very best of living, working and playing.
Living in Sheffield
The overall cost of living in Sheffield is one of the lowest in the country, at 90% of the national average and a full one-quarter lower than the cost of living in London.
The city offers all the practical resources needed to settle into life: healthcare services, childcare facilities, state and private schools, places of worship for many denominations, and sports and leisure centres.
Sheffield is a major retail centre and the city centre is home to many high street names and independent brands. There are several retail parks outside the city centre, including Meadowhall, a huge shopping mall that houses over 200 stores under one roof.
Property to rent in Sheffield
If you're looking for a property to rent in Sheffield, the local market offers a wide range of affordable flats, apartments and houses.
Two bedroom flats and apartments to rent in the city centre are the most popular choice for those who want fun, fast urban living or university accomodation at either the university of Sheffield or Sheffield Hallam university.
Sheffield
Sheffield offers the usual mix of traditional pubs, trendy bars, nightclubs and fashionable eateries alongside galleries, theatres and public spaces, such as the award-winning Peace Gardens and the Winter Gardens, one of the largest glasshouses to be built in the UK within the last 100 years.
The city centre plays host to a number of public events throughout the year such as Fright Night on 31st October and a series of Continental Markets and Farmers Markets.
Transport links
Sheffield has good rail and road connections to other locations throughout the UK; London is just two hours away by train. The city lies at the centre of a network of six airports and two seaports, making international travel easily accessible.
Getting around the city centre is easy using the multi-million pound Supertram system and there is also a free bus service, the FreeBee, which operates within a circular route around the city.